Man with MS tackles 60km London charity walk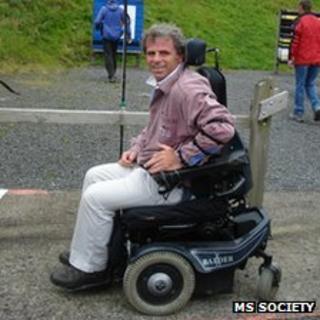 A man with multiple sclerosis (MS) who can only walk a few feet at a time using a stick is attempting to walk 60km (37 miles) in nine days.
Stuart Nixon, who has used a wheelchair for 15 years, wants to raise £60,000 for the MS Society.
His challenge is taking place along the Jubilee Greenway route in London.
Mr Nixon, 49, from Gwent, said he wanted to do something "significant" to mark the 60th anniversary of the charity.
'Morning epiphany'
Mr Nixon, who can only walk 29ft (9m) at a time with a stick and the help of his wife, said the idea came to him out of the blue.
"At 3am in the morning I had an epiphany," he said.
"I woke my wife up and told her I wanted to walk 60 miles.
"She told me not to be stupid. We negotiated over breakfast to 60km."
Mr Nixon only has mobility in one leg so students from Northumbria University have designed a bespoke walking frame to help him complete the journey.
"I'm excited, exhilarated and scared," he said. "I haven't walked any distance for 15 years.
"But living with MS is not about letting it hinder you, it is about making the most of every second you have."
Mr Nixon has been training six days a week and hopes to complete the challenge by 13 October.
MS affects the nerves in the brain and spinal cord, causing problems with muscle movement, balance and vision. There is no cure for the condition.