Sabrina Moss shooting: Family describe lost 'angel'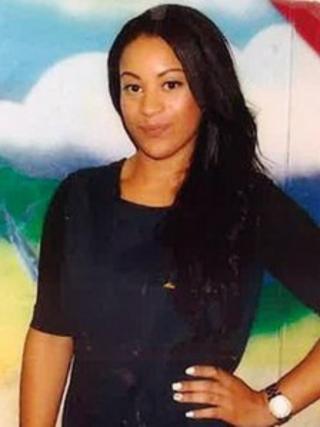 The cousin and uncle of the nursery worker shot dead as she celebrated her birthday in Kilburn, north-west London have described her as an "angel".
Emmanuel Flavius and Natasha McIntosh told BBC Radio Five Live "Sabrina Moss was an excellent mum" to her four-year-old son and a "loving" person.
Ms McIntosh said she believed if she had been with her she would not have been shot.
Police described Ms Moss as being "in the wrong place at the wrong time".
'With the angels'
Ms McIntosh, 28, told Victoria Derbyshire that her cousin was more like a sister to her.
She said: "We would finish each other's sentences."
Ms McIntosh had been out celebrating Ms Moss's 24th birthday on Friday 23 August but left early because she had work the next day.
In the early hours of Saturday, shortly before 04:20 BST, Ms Moss was killed and her friend Sabrina Gachette was injured in a shooting outside Woody Grill in Kilburn High Road.
Ms McIntosh said: "We have a routine. Her friends all come back to my house and we sit and eat and fall asleep ready to go home in the morning.
"So I know if I was there she wouldn't have gone to that kebab shop.
"It's not that I blame myself but I could have stuck it out and gone into work hungover."
Ms Moss had recently moved to a new home with her four-year-old son Mason and partner Aaron and was excited to be living near her cousin, said Ms McIntosh.
"She still hadn't unpacked," she added.
Mr Flavius, 48, who was a pallbearer at the funeral last Friday said: "She was like an angel, a peacemaker. She loved her little boy and Aaron so much."
Ms McIntosh said Mason has been told "Mummy's with the angels".
She added: "He doesn't understand yet."
'Think of actions'
Asked what message she had, Ms McIntosh said: "Sabrina made a point of always letting you know exactly what was in her mind.
"I would like to say everyone needs to think of their actions. She had such a forgiving heart. Why take that energy to destroy people's lives?"
She said that Ms Gachette who has been released from hospital has been left with scars.
She added: "Waking up to find out about Sabrina must rest on her heart."
One man has been charged with the murder of Ms Moss and the attempted murder of Ms Gachette.
He has been remanded in custody until November when he will enter his plea. Police made four further arrests in the early hours of Wednesday morning.