Erena Wilson Kew branch fall death: 'More could have died'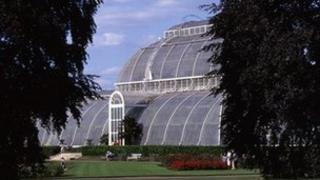 It was a "fluke" that only one person was killed by a falling tree branch in Kew Gardens, an inquest has heard.
Erena Wilson, 31, suffered fatal head injuries when she was hit by the Lebanese cedar branch at the Royal Botanical Gardens in September 2012.
She had been walking with friends when she was struck.
John McLinden QC told West London Coroner's Court it had been a "fluke [that] other people did not suffer very serious injury".
In the past Kew has taken steps to protect the public from falling branches, such as issuing warnings and cordoning off areas, but "these steps seem to have fallen away, for reasons that the family do not know", he said.
Mr McLinden, counsel for Miss Wilson's family, said they did not want the inquest to become a "very wide-ranging political exercise or liability exercise".
He said the inquest needed to consider "whether summer branch drop caused the branch to fall, whether the tree had been pruned and whether there was a policy in place at Kew at the time to deal with that".
'Forever grateful'
Summer branch drop is when a tree sheds large branches in summer, often in calm conditions.
Assistant coroner Elizabeth Pygott said she could not go ahead with the full inquest as she had received a large amount of new evidence in recent days.
"I need to know whether summer branch drop was involved in this case," she said.
An earlier hearing was told ambulance crews attended the scene but were unable to save Miss Wilson, who died instantly.
Miss Wilson was born in Wellington, New Zealand, but lived in Hanwell, west London.
A date for the full inquest has yet to be fixed.
Speaking after the hearing was adjourned, Miss Wilson's uncle, Pieter van Vliet, said his niece had been a regular visitor to Kew.
He said the family would be "forever grateful" for the support given to them by the visitor attraction over the past year, including hosting a memorial event.
Kew Gardens attracts more than one million visitors each year.