Armed officers 'swarmed around' Duggan minicab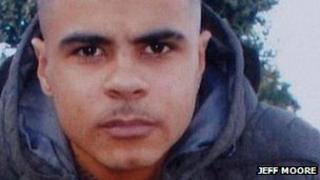 Armed police "swarmed around" the minicab carrying Mark Duggan in the moments before he was shot, an inquest has heard.
Anonymous police witness ZZ17 said that he had the impression Mr Duggan had rushed out of the vehicle.
The witness said officers surrounded the car and two to three shots were fired, one after the other.
Mr Duggan, 29, was shot by police in Tottenham, north London. His death sparked riots in the capital.
The riots later spread across England.
The hearing at the Royal Courts of Justice in Westminster was told that before the shooting police had been given intelligence about the movements of Mr Duggan.
Police witness ZZ17 told the inquest the source of the information was the Serious Organised Crime Agency (SOCA), and it was "as reliable as it could be".
The inquest heard that on the day of the shooting officers from the Met Police's Trident unit were following Mr Duggan until a "code amber" was called and the CO19 armed unit became involved.
Police intelligence suggested that Mr Duggan was intending to collect a gun from an east London address and take it to Tottenham, the inquest was told.
'Stop, armed police'
Giving evidence, ZZ17 said he had been in the back of an unmarked police car following Mr Duggan.
The witness recalled hearing sirens as the police jumped out of cars and surrounded the minicab.
ZZ17 said the police "shouted the usual: stop, armed police, that kind of thing".
The witness told the inquest that quickly after the shooting officers called for an ambulance saying somebody had been shot.
The jury heard ZZ17 also rang a SOCA intelligence officer to tell him what had happened afterwards.
The inquest was shown footage of the aftermath of the shooting.
The jury were shown enhanced BBC footage of the immediate aftermath, which showed an officer pace back and forth and around the back of a fence to where a gun was allegedly found.
The inquest continues.