Christopher Tappin back in UK to complete jail sentence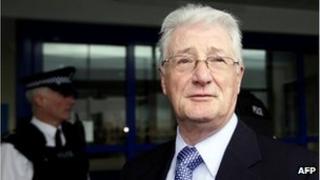 A retired British businessman who was jailed by a court in the US after admitting selling weapon parts to Iran has been returned to the UK.
Christopher Tappin, 66, of south-east London, had been serving his 33-month sentence in Pennsylvania.
He will now serve the remaining 14 months at a UK prison.
Tappin's lawyer said prior to his transfer her client spent six weeks in a correctional facility in New York which was "teeming with rats".
'Proud man'
Lawyer Karen Todner said her client "seemed broken by his experience".
She added: "For six weeks while his repatriation was being approved, he was moved to the Metropolitan Correctional Center in New York, a prison which is teeming with rats and run by gangs.
"Mr Tappin is an upstanding, proud man and he told me he just tried to stay in the background there.
"After that, his hands and feet were shackled while he was taken to JFK Airport to be flown home. His family are relieved he is back, particularly as he suffers chest problems."
Illegal export
The father-of-two reached a deal with US prosecutors which led to him pleading guilty in November 2012 and he was jailed in the US in January.
The retired businessman, who pleaded guilty to one count of aiding and abetting the illegal export of defence articles, was also ordered to pay a fine of $11,357 (about £7,100).
He admitted that between December 2005 and January 2007 he knowingly aided and abetted others in an illegal attempt to export to Iran zinc/silver oxide reserve batteries, a special component of the Hawk Air Defence Missile.
Tappin, the former director of Surrey-based Brooklands International Freight Services and the former president of Kent Golf Society, had previously denied trying to sell batteries for surface-to-air missiles that were to be shipped from the US to Tehran via the Netherlands, claiming he was the victim of an FBI sting.