Brixton Prison to open inmate-run restaurant for paying public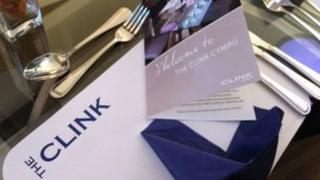 A restaurant staffed by prisoners but open to the public is set to open in a south London prison.
The Clink will open at HMP Brixton next year in conjunction with The Clink Charity which already operates two inmate-run restaurants.
The 100-seat restaurant will teach prisoners new skills for future jobs.
The Clink Charity has been granted planning permission to transform the old governor's house within the grounds into the restaurant.
'Unforgettable experience'
Chris Moore, chief executive of the charity, said: "The central location lends itself to securing support from local businesses and members of the public... providing real-life experience for those prisoners who make it through the selection process to join the programme."
The charity which already runs restaurants at HMP High Down in Surrey and at HMP Cardiff hopes to open a further seven restaurants over the next four years.
HMP Brixton's governor, Edmond Tullett, said: "Brixton is more than delighted to host the third Clink training restaurant in the Regency Roundhouse, which dates back to 1819.
"The restaurant will provide an unforgettable experience for customers and an unrivalled opportunity for prisoners to acquire marketable skills that will lead to local jobs and provide a pathway to a better life."
Reoffending rates
In addition to the 100-seat restaurant, the building will also include rooms for business meetings.
Prisons minister Jeremy Wright said: "This is a great partnership, which gives offenders the chance to learn skills that can help them secure employment once they leave prison.
"We know reoffending rates are unacceptably high and it's through projects like this that we can help them build a strong work ethic that will ultimately enable them to turn their backs on crime."
In 2012, The Clink Cymru and The Clink HMP High Down welcomed over 15,000 diners to their restaurants.