Greenwich and Lewisham health care trust merger plan approved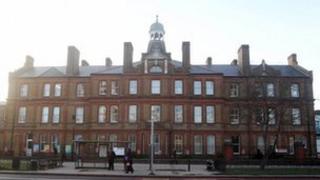 A merger between two south-east London health trusts has been approved.
Health Secretary Jeremy Hunt approved plans for the Lewisham Healthcare NHS Trust to work with Queen Elizabeth Hospital in Greenwich.
It will form the Lewisham and Greenwich NHS Trust and take effect from 1 October.
The changes, which are part of the wider dissolution of the South London Healthcare NHS Trust, do not affect the way patients are treated.
On its website Lewisham Healthcare NHS Trust said the merger was proposed because the two organisations "have much in common".
It added that Queen Elizabeth Hospital is currently part of South London Healthcare NHS Trust (SLHT), which has financial difficulties and as a result is expected to be dissolved with its services run by other providers.
'No historic debts'
As part of the changes a team of clinical leaders will be appointed for the new Trust, including healthcare professionals currently working for Lewisham Healthcare and for SLHT.
The development comes after the High Court said the government's decision to close the A&E and maternity units at Lewisham Hospital was "unlawful", saying the health secretary had acted outside his powers.
The government is now appealing against that ruling. But the court case will have no bearing on this merger.
In a joint statement, Lewisham Hospital Trust chief executive Tim Higginson and chairwoman Elizabeth Butler, said: "It is important to stress that the legal challenges relate to the government's plans to downgrade local emergency and maternity services, rather than the merger with Queen Elizabeth Hospital.
"There is a clear distinction between the two and many benefits to Lewisham Healthcare and Queen Elizabeth Hospital coming together as one organisation.
"While Lewisham Healthcare has a good record, the NHS faces challenges in the future which we will be better placed to meet as a larger organisation."
The new trust will "not inherit historic debts" of SLHT, they added.