'Time-travelling art' on London Underground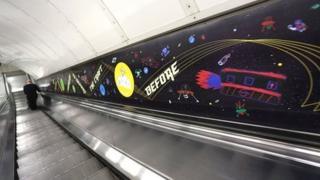 Some passengers travelling on London Underground will be hearing futuristic messages as part of an art project.
Two Central line stations in London will feature imagery inspired by space travel, created by the artist Harold Offeh and a group of young people.
There will also be special station announcements featuring futurist slogans such as "mind the time vortex at the top of the escalator".
London Underground said the art would make "journeys more interesting".
A group of 11 to 19-year-olds worked with Mr Offeh over six months to create the installations at Notting Hill Gate and Bethnal Green stations.
'Black hole'
Louise Coysh, curator for Art on the Underground, said: "The future of the London Underground, along with the group's love of science fiction, was the inspiration for this artwork and I'm sure our customers will enjoy this unusual project."
The art will be featured along the walls of escalators, and specially composed musical riffs and announcements recorded by the young people will be heard on the platforms throughout the day.
Mr Offeh said the collaboration was inspired by the idea of the underground being an "an everyday transporter, like the teleportation machine in Star Trek".
"There is wonderment in disappearing into a 'black hole' in the ground and being transported and arriving at completely different location," he said.
Other announcements include, "invisibility is forbidden in the station. Have a nice day," "Disembark for the intergalactic toy museum" and "Please mind the vortex between the train and the space ranger".
The project, which is called Transporter, was commissioned as part of the celebrations of the 150th anniversary of the Tube.