London cycle attacker 'could strike again, victim warns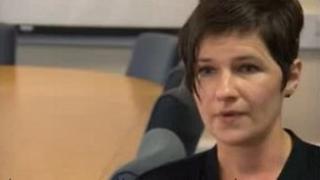 The victim of a random unprovoked attack in south-east London, who was left with serious head injuries, has warned the man could strike again.
Suzanne Ratajova was on her way home on Norwood Road, in Herne Hill, at around 22:50 GMT on 29 February 2012 when she was attacked by a man on a bicycle.
He suddenly veered on to the pavement and punched her repeatedly on the head before hitting another man.
Ms Ratajova, 36, warned: "He might kill someone one day."
She lost consciousness due to the impact of the punches and spent more than two months in hospital.
In June this year, a section of the left side of her skull was removed and replaced by a titanium plate.
The office administrator is yet to return to work.
'No motive'
Appealing for information to help identify the attacker, Ms Ratajova said: "It is very urgent, because I am sure that was not one-off that night, what he did.
"So I am sure he would just continue doing it and he might kill someone one day.
"It could have been me but luckily I survived so I think people should try to help so he is taken off the street."
Following the attack on Ms Ratajova, the suspect continued to cycle along the pavement and punched another pedestrian, a 46-year-old man, before speeding off on his bike.
The second victim did not require hospital treatment, police said.
The attacks seem to have "no motive", police said, describing the suspect as a black man who was wearing a long dark coat and riding a mountain bike.
Det Insp Teresa Foster said: "The victim was repeatedly punched by this man in a completely unprovoked attack and some of the injuries will never heal.
"This case remains a priority and I am asking for the public's help in catching this very dangerous and callous man."