Chase Farm Hospital closures bid gets legal challenge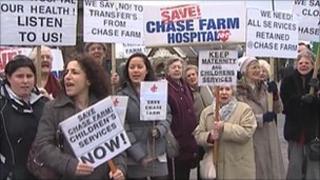 Enfield Council in north London has said it will seek a judicial review against the decision to close maternity and A&E units at Chase Farm Hospital.
The local NHS Clinical Commissioning Group (CCG) announced the labour ward will close in mid-November and the A&E will close on 9 December.
The services will move to Barnet and North Middlesex hospitals, where new midwife-led units are being developed.
The council said it was a "grave breach" of residents' expectations.
The changes are part of a plan which was given approval by former health secretary Andrew Lansley to reorganise hospital services.
The plans, which have been under discussion for several years and will see the hospital now focussing on non-emergency care, have faced strong opposition from health campaigners, GPs and the council.
'More senior doctors'
Enfield Council leader Doug Taylor said: "For many years the people of Enfield have been assured that improvements to primary care would be in place before the closure of the A&E and maternity services at Chase Farm Hospital.
"The CCG's decision to go ahead without these promises being fulfilled is a grave breach of our residents' legitimate expectations."
He said the CCG had ignored several preconditions set down by the government as far back as 2008, and the decision to close the services without meeting those conditions was unlawful.
"These conditions required that a number of new sites were to be developed to provide improved primary care services to the people of Enfield before the A&E and maternity departments could be closed.
"There are also a number of other conditions relating to the provision of services by GPs which should have been fulfilled before closure."
Mr Taylor said he had written to Health Secretary Jeremy Hunt "urging him to halt proceedings until our concerns are addressed".
But the CCG said the decision on the timing of the closures was founded on robust, clinically-led decision making.
Liz Wise, chief officer for Enfield CCG and senior responsible officer for the Barnet, Enfield and Haringey clinical strategy, said: "Changes under the strategy mean more senior emergency doctors in A&E, better maternity care in modern labour wards and improved children's inpatient services.
"We have always said changes will only be implemented when we have assurances that safe, high quality services can be provided for the local population. These assurances have been met, and I am pleased the decision has been made to press ahead."