Grandmother killed in 'frenzied' attack by daughter's dogs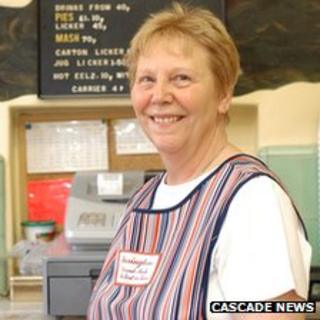 A woman was mauled to death by four "out of control and aggressive" dogs owned by her daughter, an inquest has heard.
They set upon Gloria Knowles, 71, when she entered her daughter's home in Morden, south-west London, in October.
The dogs had shown "unpredictable and aggressive" behaviour a month before and had attacked a child and a dog.
The coroner did not give a verdict of accidental death but described it as an "accident" in a narrative verdict.
Mrs Knowles's body was discovered by her then son-in-law who thought it was a bundle of rags in the garden.
'Out of control'
The semi-retired shop owner sustained "extreme and shocking" injuries to her neck, arms, chest and back.
The area where she fell was soaked with blood and her clothes were ripped, the inquest at Westminster Coroner's Court heard.
The dogs - two Bordeaux French mastiffs and two American bulldogs - were "well-kept" but they were "out of control and aggressive", coroner Dr Fiona Wilcox said.
On the day of the attack, 30 October, Mrs Knowles had entered her daughter's house through a gate which connects her back garden with her daughter's garden.
At about 17:15, neighbours heard loud barking and screaming.
Mrs Knowles's son-in-law came home from work at about 18:00 and noticed something in the garden which he thought was a bundle of clothes.
A dog-handling police officer who was first at the scene said he saw three of the dogs with Mrs Knowles's blood on their jowls.
The four dogs were put down in April.
Previous attacks
In the summer preceding the fatal attack there were several instances where the dogs had attacked people, including the couple's children, the inquest heard.
Two of the dogs, a mastiff and bulldog, had chased their 16-year-old son, and bitten him.
In another incident their 10-year-old son suffered several lacerations on his forearm and canine teeth marks when three of the dogs set upon him.
On another occasion the larger mastiff had also bitten a jogger on the backside and one of the bulldogs had attacked a stranger's dog.
The court heard the dogs had also killed the family cat.
The inquest heard the victim's daughter had never trusted one of the bulldogs and had considered having it put down the month before the attack.
Dr Wilcox said it was "very sad" the dogs had attacked the grandmother, given the other previous incidents.