Mark Duggan: Officer 'wrongly claimed suspect shot at police'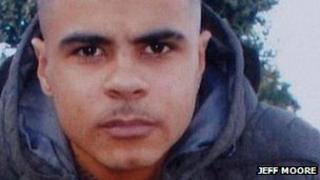 A senior officer wrongly claimed Mark Duggan had been firing at police when they shot him dead, an inquest heard.
Michael Mansfield QC said Detective Chief Inspector Mick Foote phoned another officer telling him Mr Duggan "came towards officers firing".
Det Ch Insp Foote said he did not recall saying that. Mr Duggan, 29, was shot in Tottenham in August 2011.
Mr Duggan was arrested over a murder, an attempted murder and suspected firearms offences, but never charged.
The death of the father-of-four sparked riots in Tottenham, north London, which later spread across England.
'Surprised' at reports
Det Ch Insp Foote said Mr Duggan was a member of Tottenham gang TMD, which he was targeting as head of Operation Dibri.
In response to questioning by Mr Mansfield, who is representing the Duggan family, he said he was "surprised" at media reports after the killing which said that there had been a "shoot out" between Mr Duggan and the police.
Mr Mansfield questioned why armed police had not intercepted Mr Duggan in Leyton, east London, when they received intelligence that he was planning to travel in a minicab to pick up a gun.
He said it was "ridiculous" officers had not been sent straight there but instead had been told to head to a police station in Wood Green for a briefing.
If they had gone to Leyton, Mr Mansfield said, "they would have found an ideal place for an interception".
Police intelligence
Mr Mansfield said Mr Duggan was instead allowed to continue on his journey to Tottenham, where his minicab was finally intercepted by police and he was shot dead.
The inquest at the Royal Courts of Justice in Westminster heard the gun found near Mr Duggan had been used in a shooting at a supermarket car park in July 2011.
The gun had also been used by Kevin Hutchinson-Foster to pistol whip a man at a barber's in Hackney, east London, the inquest heard.
Barrister Leslie Thomas, who is also representing the Duggan family, questioned why police did not "focus on the man with the gun".
Det Ch Insp Foote said that officers did not know where the gun was and were waiting for intelligence.
In October 2003, Mr Duggan was investigated over the murder of Gavin Smith at the Broadwater Farm Estate in Tottenham, but there was insufficient evidence to charge him, the inquest heard.
About three years later, in May 2006, he was arrested again over the attempted murder of Serkhan Houssein, but that case did not proceed. However, he was not picked out in an identity parade and there was no forensic evidence against him, the inquest was told.
He had also been held over suspected firearms offences, but was never charged.
In one incident live ammunition was allegedly found in a car in which he was travelling, and on a separate occasion a gun wrapped in a sock was found in a car he was driving.
The inquest continues.