New Bus for London crash: Three people seriously hurt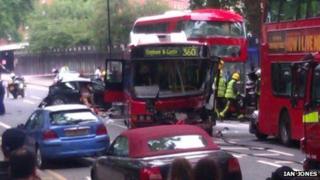 Three people were seriously injured when a Routemaster-style bus was in collision with two other buses and three cars in west London.
The crash happened in Chelsea Bridge Road on Sunday afternoon.
The driver of the New Bus for London, along with a man and woman in a car, were taken to hospital. Twelve other people suffered minor injuries.
Transport for London said there would be "a thorough investigation into this incident as a matter of urgency".
Mike Weston, operations director for London Buses, said three buses, a route 11, 360 and 452, were involved.
'Off route'
"We can confirm one of these buses was a New Bus for London vehicle.
"Our first concern is, of course, for the driver, passengers and others involved in this incident," he said.
Transport for London said the bus was "off route" but in service, and an investigation was under way to establish why.
Police believe the 58-year-old bus driver collided with a line of stationary traffic on the southbound carriageway near to the junction with Bury Bridge Road.
A 47-year-old man and 34-year-old woman who were travelling in a Citroen car were among those taken to hospital. None of their injuries are life-threatening.
Police are appealing for witnesses. There have been no arrests.