London Tube station visiting record broken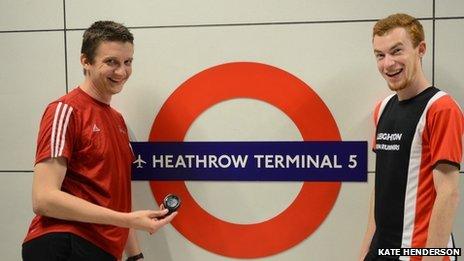 The record for visiting all 270 London Underground stations in the quickest-possible time has been broken by eight minutes.
Geoff Marshall, from Ealing, west London, and Anthony Smith, completed the record in 16 hours, 20 minutes and 27 seconds.
It is the second time Mr Marshall has held the record, after a total of 25 attempts.
The freelance video producer said it took "more skill than people think".
"You have to get off one line and run to the other," Mr Marshall said.
"We run from Cockfosters to High Barnet so it's a combo of athleticism and the ability to decode a Tube timetable.
"People tar you with a trainspotter brush, but I've never written down a train number in my life."
The pair's attempt was completed on 16 August, but it took Guinness World Records more than a month to verify their record.
They were helped by a team of friends who warned them of possible obstacles ahead.
The pair, who finished at Heathrow Terminal 5 Tube station, said they only beat their previous times as there had been no problems on the Tube network that day.
Mr Marshall said: "Something always broke or went wrong, I love the Tube and the underground but it does break down."
The pair, who will not reveal their exact record-breaking route, said the secret to their success involved starting from the outside of the Tube map and travelling into central London.
"It's like the wheels of a bicycle spoke - you start on the outside and then go back into London, everything comes into the middle," Mr Marshall said.
In 2004 Mr Marshall and Neil Blake held the record with a time of 18 hours, 35 minutes and 43 seconds.
Guinness World Records confirmed that the pair had beaten the previous record of 16 hours, 29 minutes and 13 seconds, held by Andy James and Steve Wilson from May 2011.
Related Internet Links
The BBC is not responsible for the content of external sites.