Daniel Pelka protection boss Colin Green gives up Tower Hamlets post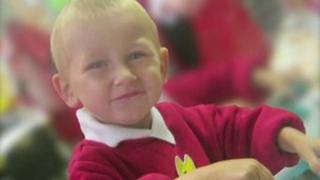 The man in charge of children's services in Coventry when Daniel Pelka was murdered by his mother and stepfather has stepped down from his job protecting children in east London.
Tower Hamlets Council said Colin Green had decided to withdraw from the post of chairman of the Local Safeguarding Children Board "with immediate effect".
Mr Green retired from Coventry Council at the end of last month.
Daniel, four, was starved by Magdelena Luczak, 27, and Mariusz Krezolek, 34.
He died from a head injury in March 2012 weighing just more than a stone-and-a-half.
'Affront to opinion'
This week a serious case review found key opportunities were missed to intervene by Coventry's children's services team, led by Mr Green.
It also criticised health professionals, school staff members, police and other child protection agencies.
Tower Hamlets Council had defended Mr Green's appointment saying a multi-agency panel had made the decision in June based on the "merit" of the applicant.
When news of the appointment came, Geoffrey Robinson, Labour MP for Coventry, said he was "stunned" and called it "an affront to public opinion".
Daniel was kept locked in a box room at home, fed salt, and starved to the point where he stole food from other pupils' lunchboxes and raided school bins for scraps at playtime.
Despite these signs, the serious case review report authors found nobody had ever spoken to Daniel independently about his home life nor acted decisively to intervene in his care.
Luczak and Krezolek were jailed for a minimum of 30 years each after being found guilty of the child's murder in a trial at Birmingham Crown Court in July.