PFA chairman: Spurs should stop 'offensive chants'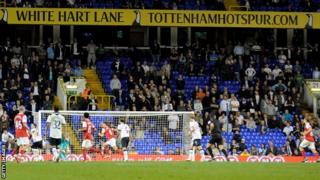 The chairman of the footballers' union has called on Tottenham Hotspur to stop their fans chanting the word "Yid".
Clarke Carlisle from the Professional Footballers' Association, said it was not for fans "to appropriate a derogatory, offensive term".
The prime minister has said fans who chant it should not be prosecuted.
Spurs have a strong Jewish following and have been the target of abuse from opposition fans, however some Spurs supporters use the term themselves.
The north London club has sent a questionnaire to fans to ask if the practice or chanting terms including "Yid", "Yid Army" or "Yiddos", should cease.
'Offensive term'
Mr Carlisle said: "Spurs fans may not intend for it to be offensive but it will be perceived to be offensive by a section of the community and the law states that's not allowed."
The former footballer also said that he agreed with comedian David Baddiel, who argued that if a team with roots in the black community appropriated racist language there would be an outcry.
"It is not for them to appropriate a derogatory, offensive term that was used to belittle a whole section of society in a terrible era," he said.
The Football Association has issued a statement warning supporters that the use of such words could result in a banning order or criminal charges.
On Tuesday, David Cameron told the Jewish Chronicle there was a difference between Spurs fans "describing themselves as Yids" and the word being used as an insult.
Mr Cameron said: "You have to be motivated by hate. Hate speech should be prosecuted - but only when it's motivated by hate."
However writer and producer Ivor Baddiel, the brother of comedian David, said the word was offensive, regardless who used it.
"There are certain words you cannot get rid of the connotations, you can't say to Jewish people just forget the race hate connotations while we chant this word," he said.
"It's ridiculous, it has and does offend a lot of Jewish and non-Jewish people."