Tories get control of Harrow Council after Labour split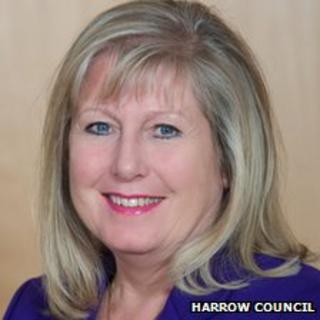 The Conservatives have taken over Harrow Council after the ruling Labour party split over a leadership row.
Councillor Susan Hall was voted in as the new leader on Monday with 31 votes and the Tories have formed a minority administration, the council said.
In May, nine councillors split from Labour and formed Independent Labour following the election of David Perry as the leader of the Labour group.
Harrow now has equal number of Labour and Conservative Councillors, 25 each.
The Labour group in the north-west London council split following the election of Councillor David Perry as leader of the Labour group, which Councillor Thaya Idaikkadar said was an unfair challenge to his position as leader of the council.
'Daunting' task
Mr Idaikkadar was elected as the leader of the Independent Labour group.
He alleged unfairness and "elements of racism" behind the split, a claim denied by Mr Perry.
On Monday, 24 councillors voted for Mr Perry and 31 for Ms Hall, while five abstained.
Ms Hall said: "We know that the task facing us is daunting, and that the council faces many challenges."
She said she would appoint her new cabinet soon.
Ms Hall said: "The budget process for 2014-15 is also just getting underway, so we will be turning our attention to that."
Mr Perry, leader of the Labour group, said the vote was a "huge disappointment".
He said: "However, it will not deter me and the Labour Group in Harrow from continuing to put the interests of the residents at the forefront of our efforts."
The party, which won the local elections in 2010, will aim to stop the expansion of RAF Northolt, campaign for a better government financial settlement and argue against the conversion of office space into housing, he added.