Man stabbed and robbed in London of Grand Theft Auto game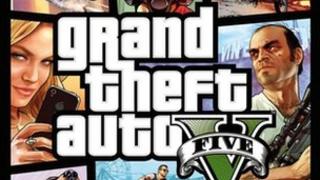 A man was hit with a brick and stabbed before being robbed of the much awaited Grand Theft Auto V video game in north London.
The 23-year-old was returning home from shopping when he was attacked in Colindale at 01:20 BST, police said.
The video game by RockStar Games was officially launched at midnight.
The victim, who is in a stable condition in hospital, was also robbed of a watch and a mobile.
No-one has been arrested over the attack and police have appealed for information.
A Metropolitan Police spokeswoman said: "The victim had been shopping and was on his way home when he was hit with a brick.
"He was then stabbed and robbed."
Grand Theft Auto V was launched in stores across the UK at midnight, with long queues forming outside gaming shops.
Experts believe Rockstar Games could sell 25 million copies, generating £1bn during its first year on sale.