London cycle hire scheme to expand into south west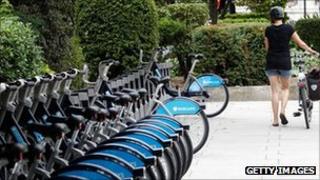 Work to improve London's cycle hire scheme has started with more than 2,000 bikes eventually planned for the south west of the city.
Transport for London(TfL) said there would be restricted access to the scheme until late on Sunday while the first phase of work was carried out.
TfL said the upgrades this weekend would add more terminal information and directions for new users.
It is aimed to make the scheme easier for casual users.
'Contactless payments'
By the end of the month a local rate contact number will be introduced and 12-month account history access will be available.
From December Tfl will add more than 2,000 new bikes and hundreds of new docking stations with around 5,000 docking points, with half installed south of the river.
The south west expansion of the scheme will include parts of Wandsworth, Hammersmith and Fulham, Lambeth and Kensington and Chelsea.
All new docking stations will be in place by next Spring.
Tfl expects to add 250,000 and 300,000 journeys each month with the extra bikes and docking stations in south west London.
The mayor's bike scheme was launched in July 2010. In March 2012 the scheme was expanded into parts of east London adding 10,000 more weekday hires.
"When the extension is complete, Transport for London will also look at how Barclays Cycle Hire can be integrated with the roll-out of contactless payments using credit, debit and charge cards," a TFL spokesman said.