Residents march to save Porcupine pub from demolition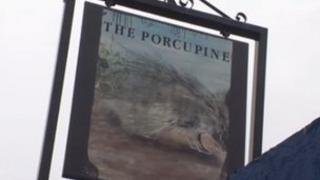 Hundreds of residents in south east London have held a march in protest over plans to turn their local pub into a supermarket.
Residents in Mottingham want to save The Porcupine, which Lidl wants to demolish.
Campaigners said a supermarket would kill local trade and was unnecessary as there was already a Lidl just over a mile away.
Lidl said the proposal had been met with both support and opposition.
A spokesman for the supermarket chain said they were aware of the protest: "We hope to be able to deliver a new supermarket, which will bring jobs and investment to an area which has shown demand for the proposal."
Campaigner David Bingley said there had been a pub on the site for the past 500 years and it was a well-used pub.
"We already have two food shops, a DIY shop and a post office, this supermarket will kill local businesses and look very out of place in our village. If we need a Lidl there is one 1.2 miles away," he told the BBC.
He said a recent exhibition organised by Lidl to show residents the new plans for the site on Mottingham Road had resulted in 257 people registering their opposition, 22 people supporting it and 11 people saying they did not know.
Mr Bingley said the march started at Mottingham Station, heading down Court Road towards the village.
According to Bromley Council's website an application from Lidl for prior approval for demolition of the Porcupine was refused at the end of June. The council is awaiting a full planning application for the redevelopment of the site from the supermarket firm.