Support for 20mph speed limit in City of London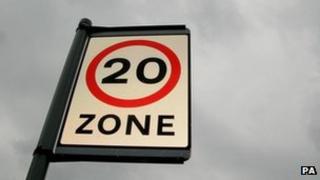 A scheme to introduce a 20mph speed limit in the City of London has been welcomed by charity Sustrans.
The group, which encourages people to travel by foot, bike or public transport, said it would save lives and encourage people to be more active.
The City of London's Court of Common Council approved the plan as part of its Road Danger Reduction Plan.
It is hoped the plan will reduce casualties by almost 10% while adding only a minute to journey times.
Boroughs around the City, with the exception of Westminster, have already adopted a 20mph limit.
Michael Welbank, chairman of the council's planning and transportation committee, said: "The City of London's street usage has changed dramatically over the last 10 years, with the number of cyclists tripling."
He added: "The 20mph speed limit for the City is not the panacea but a further step in reducing casualties."
Sustrans' London deputy director Matt Winfield said: "A 20mph speed limit would save lives and make the streets in London's city centre better places to walk, cycle and socialise.
"Slowing speeds also improves public health by allowing people to be more active, significantly reducing the burden on our health system."