London Fire Brigade to axe 550 jobs and close 10 stations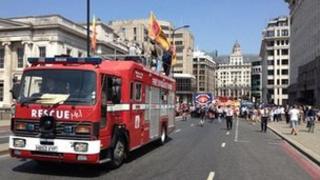 Plans to shut 10 fire stations and cut 550 firefighters' jobs have been approved by the London Fire and Emergency Planning Authority (LFEPA).
The cuts will save £28.8m over two years and were voted through after months of wrangling.
Labour LFEPA members had sought legal advice to challenge mayor Boris Johnson's directions to the LFEPA but were told there was "no legal basis".
Mr Johnson said "keeping Londoners safe" was his top priority.
The Fire Brigades Union (FBU) said it was also considering a legal challenge to the decision and added it had not ruled out industrial action.
The cuts were part of the Fifth London Safety Plan, which also included plans to cut 14 fire engines and reduce fire rescue units to 14 from 16.
The measures will come into effect in January next year.
The voting at the LFEPA was tied at eight for and eight against, when the Conservative chairman of the fire authority and London Assembly Member, James Cleverly, used his casting vote to get the plans through.
London 'less safe'
Following an earlier public consultation, two fire stations were saved from closure.
Last month four London councils - Islington, Camden, Southwark and Tower Hamlets - said they will seek a judicial review.
Labour London Assembly member Fiona Twycross said: "We are all deeply disappointed that Boris's cuts have now been forced through, we wanted to continue the fight in court.
"However, the legal advice we received was categorical and clearly stated we had no legal basis to challenge the mayor in this way.
"He is putting Londoners at risk and making our great city less safe.
"Boris may be celebrating but Londoners have lost, he should hang his head in shame."
But Mr Johnson said: "Ensuring that London's fire service is financially stable and keeping Londoners safe are my top priorities.
"I am perplexed why over the last 10 months the fire authority has felt it necessary to drag the world's premier fire service into an increasingly precarious position by refusing to face up to their fiscal responsibilities and listen to the sound professional judgement of the fire commissioner."
Paul Embry, London regional secretary of the FBU, said: "We are very disappointed with this decision. As far as we are concerned the fire isn't over.
"A number of local authorities are planning on legal challenges and we at the FBU are considering a legal challenge and we haven't ruled out industrial action."