Plan considered for first complete London police museum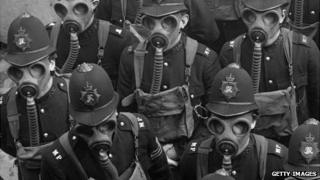 Evidence from Jack the Ripper's murders, death masks, the first truncheons and vintage police cars could be brought together for the first time under plans to create a Metropolitan Police exhibition.
With New Scotland Yard being sold and its private collection from crime scenes needing a new home, the Mayor of London is championing the idea of a new Met Police museum.
At the moment, artefacts from the Met's 184-year history are in a warehouse, and small, scattered pockets across London largely closed to the public or only viewable by appointment.
Talks are underway between The Mayor's Office for Policing and Crime and the Museum of London to create a new exhibit.
A permanent museum could also be created, possibly at the former Bow Street Magistrates' Court site.
Mayor Boris Johnson has said he supports the idea if it is commercially viable.
Items would come from the crime scene exhibits at the both secret and macabre Crime Museum in New Scotland Yard, but also from the Thames River Police Museum in Wapping; the Mounted Branch Museum in Thames Ditton; the Metropolitan Police Historical Vehicle Collection in Hampton; and the Metropolitan Police Heritage Centre in Fulham.
Neil Paterson, a retired police officer, runs the heritage centre which opened four years ago with National Lottery money.
He said the vast majority of material was in a warehouse in south London in 100 pallets which contain 100 cubic metres worth of artefacts - a "hidden treasure trove".
Mr Paterson said: "For years I've thought there was a real need for a police museum.
"We've played such an important part in the development of London. It would be amazingly fascinating to Londoners. We've got the stuff. It's just that they can't see it. I think it's a terrible shame."
The Crime Museum has been of curiosity to many Londoners since it opened in 1874.
There is a two-month waiting list to visit it, and only approaches from police officers, staff or people in crime investigation are considered.
There are two rooms with cabinets which bear such labels as "Jack the Ripper" and "Notorious Poisoners", and a collection of weapons and death masks.
Paul Bickley, who curates the Crime Museum, said a Met police museum would be "fantastic", but he would want people to come with an "academic mind" and not as if they were going to Madame Tussauds or The London Dungeon.
Robert Jeffries, who runs the Thames Police Museum, is doubtful the idea will get off the ground as the Met has to save £500m by 2015.
He said: "I don't think it's ever going to happen.
"There's long been a thought the Met should have some sort of historic collection. The Met is facing huge restrictions in its funding. Where's the money going to come from?"