Niqab court row: Compromise reached over identification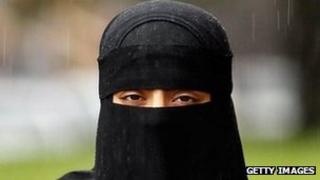 A woman who refused to show her face in court for religious reasons has reached a compromise over the confirmation of her identity.
The 21-year-old from Hackney, London, had refused to remove her niqab and reveal her face in front of any man.
Judge Peter Murphy had said the interests of justice were paramount.
At Blackfriars Crown Court, the matter was resolved when the woman removed her veil for a female police officer who then verified it was the defendant.
The police officer had previously photographed the woman.
'Dictating through faith'
The woman, who cannot be named for legal reasons, entered a not guilty plea to a charge of intimidating a witness.
Once the plea was entered, there was further debate over the veil when the case comes to trial.
The defence said there should be a case-by-case approach by judges who should take into account the human right to express faith through attire.
Defence barrister Susan Meek added that the veil did not compromise open justice because a jury could have a photograph of the unveiled woman.
But the prosecution said in trials where witnesses need to identify a defendant, the veil could be an issue.
Judge Murphy said: "It cannot be satisfactory that one judge may go one way and another judge will go another way. Is it not right that there must be a common approach?"
The judge warned that in the absence of a clearer position, some faiths could be given a "degree of privilege".
The judge will rule on Monday how the issue should be dealt with when the trial begins.