Open House London: The 'mad' idea that went global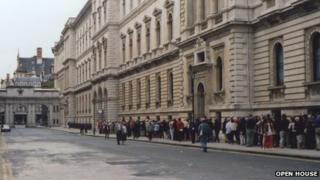 This weekend the doors of some of London's most creative, intriguing and historic buildings will open to the public for free for the 21st year.
But in 1992 when Victoria Thornton started Open House London and looked for participants the response was "No, no, no", she says.
Today the concept has "snowballed" to include 20 cities around the world.
And even that most famous of houses 10 Downing Street opens later.
But 21 years ago Ms Thornton says she and a part-time volunteer rang and wrote to people listed in architecture books only to receive a resounding rejection.
"Buildings come to us now because they realise they want to raise their profile," she says.
She started what has become an annual favourite because she wanted people outside the profession to have a better understanding of architecture, she says.
Ms Thornton wanted to make London's buildings "accessible to all" but "everyone thought I was mad" she adds.
"We were in a recession. Everything was about heritage. No-one was interested in contemporary architecture except architects.
"There was no public money about and no public buildings going up.
"There has been a transformation with Lottery money. It was a really closed, quite grey city. It's much more vibrant now."
The Modernist Finsbury Health Centre in east London was one of the first buildings to enter programme and can be visited this weekend 21 years later.
The futuristic-looking Lloyds of London in the City of London was also included in the first event.
She said: "It was completed in 1986. It was only six or eight-years-old and it's still seen as the most contemporary."
'Mindset change'
Open House London went from 20 buildings in 1992 to 220 in 1994.
New York was the first city to replicate the event, holding its version of Open House in 2002.
This year's London programme is the biggest so far with more than 800 buildings.
But Ms Thornton, who is visited this weekend by representatives from Buenos Aires and Delhi looking for hints on how to run the event in their cities, did not expect such success.
"I didn't imagine it would carry on for this long.
"This is a great idea. People should get out and see their city and open these doors.
"But I never knew it would grow into what it is today."
Ms Thornton who lives in Kentish Town, north London, was made an OBE for services to architecture and education last year.
"I think the main thing is that there has been a mindset change by Londoners.
"People are much more aware of their city and their surroundings, buildings and public spaces - and enjoying them."