Independent review of treatment of crime victims in London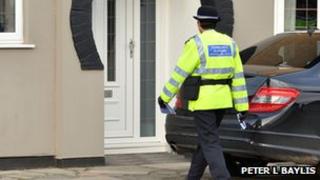 The treatment of victims of crime and witnesses in London is to undergo an independent review.
Victims' Commissioner Baroness Helen Newlove will examine why the Met has the lowest victim satisfaction rating of any police force in the country.
She will try to establish why victims in London face the longest delays in getting their cases heard in court.
The review was commissioned by the Deputy Mayor for Policing and Crime, Stephen Greenhalgh.
It is part of London's first Police and Crime Plan, which has targets to reduce key crimes, costs and boost public confidence by 2016.
From 2014, the mayor's office will be responsible for victims' services. The commissioner will report back before the mayor takes over.
Four in ten victims in London think the criminal justice system fails to provide them with the support they need and over a quarter feel the views of victims and witnesses are not taken into account, according to the London Assembly.
Since Sir Bernard Hogan-Howe became the Met's commissioner in 2011, the force says it has made victim care a priority.
Since May 2012 all victims of crime have been guaranteed an offer of a personal visit, the force said. This has seen an average of 175 extra victims visited each day, according to the London Assembly.
Mr Greenhalgh said: "The Metropolitan Police are taking important steps to improve the service they offer victims, but we need the whole criminal justice system to improve the support they provide.
"This review will shine a spotlight on current practice so we can identify where the gaps in services for victims are and make sure every victim is treated with dignity and respect."
Baroness Newlove said: "I am aware of some wonderful voluntary and statutory groups who support vulnerable people and I want to make sure that all service providers are heard and not those that shout loudest.
"I know from my own experience how the correct support can help you and your loved ones and sadly and all too often that when that support is not made available how people can suffer."