Malia stabbing: David Cameron 'happy' to meet Tyrell Matthews-Burton's mother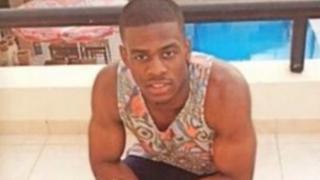 The prime minister has said he would be "very happy" to meet the mother of an east London teenager who was killed while on holiday in Crete.
Tyrell Matthews-Burton, 19 was attacked outside a bar in Malia during a fight with tourists. He died on his birthday.
David Cameron made the commitment after the teenager's constituency MP raised his death in the House of Commons.
Stella Creasy said the only thing the Greek authorities had done for his family was send his clothes back.
'Struggle to get answers'
The Labour MP said: "Tyrell Matthews-Burton was a bright 19 year old with everything to live for from Walthamstow whose only crime was to be in the wrong place at the wrong time."
She added: "Will you meet with me and his grieving mother to see how we can get justice for Tyrell?"
Mr Cameron replied: "I'm very happy to hold that meeting. I think it is really important to do everything we can to help families that are put in this position.
"To be fair to our consular services around the world, they do cope I think extremely well, they try to go the extra mile, they work very hard, and I know the Foreign Office encourages them in all that they do.
"But there are cases where things don't work out in the way that they should and where we struggle to get answers from other countries about their justice systems and what's happening, and I'm very happy to hold the meeting that she speaks about."
Myles Litchmore-Dunbar, also 19 and from east London, has been charged with Mr Matthews-Burton's murder and is in a Greek prison where he is awaiting trial.
He denies murder and says he has no idea how a bloody knife was found in his hotel room following the fight.