Councils seeks judicial review of mayor's rent plan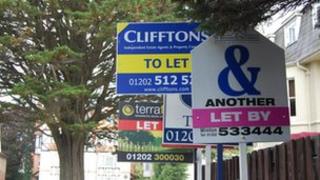 Four councils are taking legal advice to challenge Mayor Boris Johnson's decision by which affordable rents can be set at up to 80% of market prices.
Southwark, Islington, Tower Hamlets and Camden councils say, at the new amount, renting in the boroughs would not be affordable for many of its residents.
The new affordable rent amount, set out in the London Plan, was passed at the London Assembly on Wednesday.
The mayor said rents average 65% and were within housing benefit caps.
The London Assembly had voted by a majority to reject it, but the motion did not reach the two-thirds needed to overturn the decision.
The London Plan is the mayor's development blueprint for the city up to 2031 and the boroughs' local plans are usually in conformity with it.
'Genuinely affordable'
Southwark Council said it sets affordable social rent at 40% of the market value.
But the mayor's office said the new amount would average out at about 65% of market prices for existing properties but developers building new homes would be able to charge up to 80%.
Councillor Fiona Colley, Southwark's cabinet member for regeneration and planning, said: "We are very keen to seek a judicial review of this decision.
"Maybe there are some areas of London where rent levels of 80% of market rent are affordable to most people, but they certainly aren't in Southwark.
"The implication of the mayor's decision is that councils will have little power to make sure new affordable housing is really, genuinely affordable for local people."
Councillor James Murray, Islington's executive member for housing, said: "We're building new council housing and we have a firm local planning policy supporting social rent which we'll continue to enforce.
"We need new housing in our borough that people on low incomes can afford."
A mayor's spokesperson said: "Rents average 65% across the programme, and all rents within housing benefit caps so that those who are reliant on housing benefit are able to claim it.
"The London Plan conforms with national planning policy.
"Rent controls across 33 different boroughs would simply have the negative effect of driving away vital investment and reduce the number of homes built - exacerbating London's housing crisis."