Thierry Christian-Gnanakumar murder: Man jailed for 16 years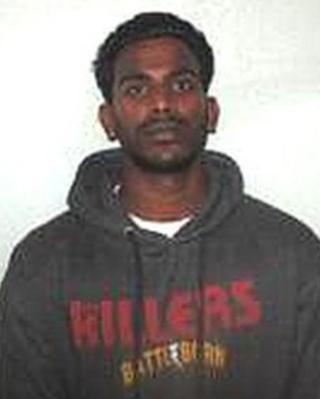 A man has been jailed for the murder of a university student who was killed in a street fight in south-east London.
Kohulan Podiappuhamey, 24, of Lee, south-east London, was sentenced to life in prison to serve a minimum term of 16 years for murdering Thierry Christian-Gnanakumar.
The 22-year-old from Catford was attacked in Lewisham High Street in November 2012.
Another six men were convicted and jailed for violent disorder.
They were convicted at the Old Bailey and were all jailed for three years and six months.
They are:
Aathavan Rajakumar, 24, of no fixed abode
Rubieus Selvaratnam, 21, of St Fillians Road, Catford
Jeyasuthan Theiventhrampillai, 33, of Minstead Way, New Malden
Jayruban Vivekananthan, 26, of Nightingale Heights, Plumstead
Pirunthan Kunaratatnam, 23, of Arkindale Road, Bellingham
Kaviloan Venayakamoorthy, 23, of Eastdown Park, Lewisham
'Very giving'
An eighth man, Jius James Vijashinghe, 27 was found not guilty of violent disorder.
A post-mortem examination of Mr Christian-Gnanakumar gave the cause of death as severe blunt force trauma to the head and face.
His sister Christine Christian-Gnankumar said he was studying bio-medical sciences at East London University and the family will be presented with his degree next month.
She described him as "very giving" and a "committed and focused" person who "always had a smile on his face".
"The loss of my brother cannot be described in words alone," she added.
Det Ch Insp Graeme Gwyn said he hoped the convictions would would "provide some comfort during this extremely difficult time" for the family.
"Thierry was killed in such tragic circumstances and his loss will be with his family forever.
"This was a murder committed in a busy high street and will have upset many who witnessed such violence."