Jail for ex-partner who killed Janelle Duncan-Bailey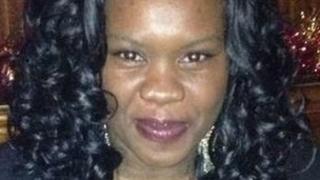 A man has been jailed for eight years for killing his ex-partner and hiding her body in the boot of a car before a missing person search began.
Jerome McDonald, 31, of Fairlands Avenue, Croydon, was convicted of manslaughter at the Old Bailey on Thursday.
Mother-of-two Janelle Duncan-Bailey of Pawsons Road, Croydon, was strangled after an argument with McDonald.
Her mother described her as "beautiful, bright, bubbly and caring".
'Apparent concern'
On the evening of New Year's Day Ms Duncan-Bailey, 25, went out after making arrangements for a friend to look after her children.
Shortly after 04:40 GMT the next day police were called to an argument in the street between her and McDonald.
To diffuse the situation, police said officers offered to take Ms Duncan-Bailey to a flat in Limpsfield Avenue.
It would be the last known sighting of her.
Later on that morning Ms Duncan-Bailey failed to collect her children from her friend's home at the pre-arranged time and a missing person's inquiry began.
McDonald told police he had tried to find her.
But after confessing to police he was charged with her murder on 6 January.
He told police he pushed Janelle in the neck in a struggle and she fell and hit her head.
He then placed her body in the back of a Ford Galaxy and left it in Mayfield Crescent.
Det Chief Insp Charles King said the truth had finally caught up with McDonald after showing "apparent concern for Janelle's disappearance".
Ms Duncan-Bailey's mother, Anne Bailey, said the "cowardly, pointless actions" of McDonald had robbed her daughter of seeing her two sons grow up.
She added: "Janelle was so full of life and now all we have is a headstone, a memorial to a short lived life."