Westfield Stratford Breitling robbery: Five men charged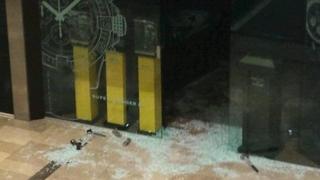 Five men are due in court after a jewellers at a Westfield shopping centre was attacked with axes and hammers.
The Breitling shop at the centre in Stratford in east London was targeted just after midnight on Thursday.
The men have been charged with conspiracy to rob and are due to appear at Lavender Hill Magistrates' Court later.
They were arrested following a Metropolitan Police operation.
They are Steven Raine, 28; Ronan O'Brien, 25; Wayne Worrell, 23; Kaval Kalychurn, 23; and Ian Rawlings, 20.