Betting shop concern in London's Chinatown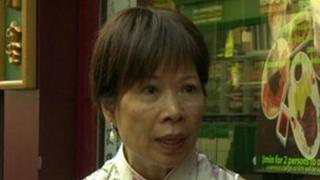 Community leaders in London's Chinatown have raised concerns about the number of betting shops in the area.
There are currently nine premises with more anticipated in the future.
Christine Yau, chairman of the London Chinese Community Centre, said: "It's becoming the betting destination and this is very bad for London."
Westminster City Council said betting shops came under the same planning regulations as shops and restaurants and could not be stemmed.
Ms Yau said: "Chinatown is about culture, about tradition and heritage."
'Cultural barrier'
She said she had written to the Mayor of London, Boris Johnson, and Secretary of State for Communities and Local Government, Eric Pickles, expressing her concern.
Peter Chan from the Christian Centre for Gambling Rehabilitation said: "The language barrier, the cultural barrier and the anti-social working hours: when they are off work there is nowhere for them to go - only the casinos or the betting shops."
He said he knew of one man who had gambled away about £2,000 a day and eventually lost his business.
However, Peter Craske from the Association of British Bookmakers said: "Betting shops are going to open where there is customer demand.
"In Westminster you've got 240,000 residents and and a million people visit a day.
"It's one of the busiest, most densely populated areas in the country so of course there'll be more betting shops, exactly the same as there are more restaurants."