Thames Festival: 2013 river festival gets under way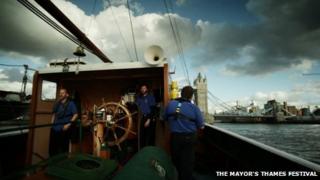 A festival to celebrate the River Thames begins in London later.
The Mayor's Thames Festival will offer various activities over 10 days including an opera of ship sounds, comedy and walks.
Festivities will open with the premiere of Portrait of a River on an outdoor screen near the Oxo Tower. The film looks at the different areas of the river and the people who work on it.
The festival is being hosted between Lambeth Bridge and St Katharine Docks.
'Historic lifeblood'
Portrait of a River by video artist Nikolaj Bendix Skyum Larsen tells the stories of the people and places along the river between the Pool of London at Tower Bridge and Sea Reach at the mouth of the Thames Estuary.
It will be shown from 12:00 to 21:30 BST on each day of the festival.
The Mayor of London, Boris Johnson, said: "It's fantastic to see the Thames Festival extended over 10 days to include an eclectic mix of attractions and events which will be kicked off with this special film.
"As the historic lifeblood of our city, this great river continues to inspire a multitude of stories reflected through this year's exciting programme."