Leicester Square to host Imax film premieres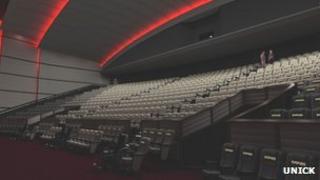 Future film premieres in London's Leicester Square will be able to take place on an Imax screen.
Screen 1 of The Empire Leicester Square is to be refurbished with a 750-seat Imax theatre and high-resolution 80ft (24.5m) by 42ft (13m) screen.
It is due to open in December or early 2014, said a spokeswoman.
A top ticket at the cinema is currently £16.95, with an extra £2 for 3D screenings. Imax prices are yet to be agreed.
The cinema will remain open during the construction work.
There are eight Imax cinemas in London - at the British Film Institute (BFI), Swiss Cottage, London Science Museum, Greenwich, Enfield, Wimbledon, Kingston and Uxbridge.