Walkie-Talkie skyscraper: Screens up after car melted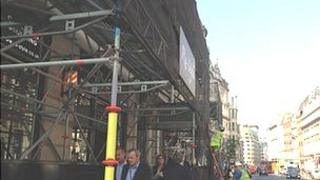 Special screens have been erected over shop windows to absorb sunlight reflected by the London skyscraper blamed for melting a car.
The meshing was mounted in Eastcheap in the City of London, where retailers said fires were started by intense heat from the 37-storey building opposite.
A chemical-based glaze is also being considered for the tower's windows.
The sunlight was said to have ruined the wing mirror, panels and badge on a Jaguar parked on the street.
Almost £1,000 was paid in compensation to the vehicle's owner, the building's developer said on Tuesday.
The manager of a barber's shop said the reflected sunlight from the building, dubbed the "walkie-talkie" because of its unusual shape, had burned a hole in his doormat, leaving "smoke coming out of the carpet".
The situation was "getting really serious", according to Ali Akay of Re Style barbers.
In a separate incident, a tile "suddenly" cracked and paint blistered at a neighbouring cafe, where an employee said they "thought something was burning".
'Death Ray Hotel'
Duncan Bonfield, a spokesman for the developer, Land Securities, said it was "clearly sympathetic to the local businesses whose commerce is affected".
"We've got the instant fix which will make sure that it's safe and prevent the heat from being anything like as intense."
A longer-term solution is being sought for the problem, which happens at certain times of day.
Experts think the light bounces off curved windows of the tower, at 20 Fenchurch Street, and converges at a single point.
Proper checks were carried out during the design and planning process, Mr Bonfield told BBC London 94.9.
"At no stage did the 3D modelling suggest there was going to be an issue with light reflecting and focusing at ground level," he added.
Similar problems were reported in 2010 at another skyscraper designed by Rafael Vinoly, the Uruguayan architect responsible for the "walkie-talkie".
The Vdara Hotel in Las Vegas was nicknamed the "Death Ray Hotel" when guests complained of being burned by sunlight reflected around a swimming pool, US media reported at the time.
Mr Vinoly was not available for comment.