Book returned to Westminster Music Library 59 years late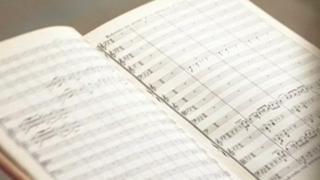 A book borrowed from a central London library has been returned - 59 years late.
The music score of Tchaikovsky's fourth symphony borrowed from Westminster Music Library in Victoria was due to be returned on 14 June, 1954.
It was given back by the Royal Academy of Music, with a note to say it had received it as an anonymous donation but had spotted the library's label.
The library said there was no way of tracing who the borrower was.
Senior library assistant Anthony McDonald said: "At first I just thought it was one of our older scores, and so I started looking through it to find the barcode to scan it back into our collection.
"We have no way of knowing who it was who borrowed the score as it pre-dates our electronic lending system, and the old ticketing lending system has long been scrapped. But we are obviously glad to see it returned."
A Westminster City Council spokesman said the fine for overdue items from libraries was 25p per day, which meant that over a period of 59 years the borrower could have built up charges of about £5,500. However, the maximum penalty is capped at £10.