Mayor's affordable rent plan gets approved despite vote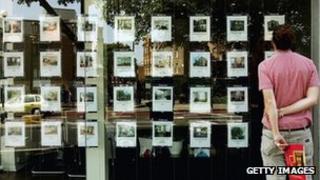 Affordable rents in London can be set at up to 80% of the market value after the mayor's plans were approved.
Boris Johnson set the amount in the London Plan, his blueprint for the city for the next 20 years.
The London Assembly voted by a majority to reject it, but the motion did not reach the two-thirds needed to overturn the decision.
Councils have said they will take legal action against this decision, which affects council and social landlords.
Members of the London Assembly, which scrutinises the work of the mayor, voted by 13 to nine to reject the plan. Three assembly members did not vote as they were away.
Attract investment
Opponents of the plan say to rent an affordable three-bedroom home, you would need to earn more than £48,000 a year in Brent and more than £83,000 in Islington. And to be able to rent in Westminster, you would need to earn £108,000.
The mayor's office says the plan will average out at about 65% of market prices for existing properties, and that developers building new homes would be able to charge up to 80% of market value.
Labour Assembly member Tom Copley said: "You might end up with this 65% average across London, but also what matters is what the social mix is.
"Are you worried that you could end up with a situation where you get a much higher level of rent in inner London where land values are higher?"
Richard Blakeway, deputy mayor for housing, said: "We're attracting investment through a very flexible programme which will deliver the maximum number of homes that are cheaper than the equivalent in the market.
"So those people who are on low incomes, rather than spending vast sums of money in the private rental sector are able to access affordable housing, secure housing in the capital."
A coalition of councils, led by Islington in north London, have said they will seek legal advice to challenge the decision as they believe local authorities should set rent rates.