Violinist Nigel Kennedy could face vote fraud probe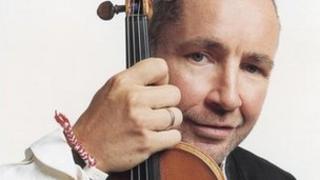 Nigel Kennedy might be investigated by the police after he reportedly allowed a friend to vote at the last general election with his wife's voting card.
The violinist told The Guardian he asked his friend to vote Labour in the London constituency of Hampstead and Kilburn as his wife was away.
The seat was won by Glenda Jackson by 42 votes - the smallest majority in England.
Conservative Matthew Offord MP told the Commons it amounted to electoral fraud.
Mr Kennedy was quoted in the newspaper saying: "In fact, my wife wasn't there, so I got another friend to go and vote for Jackson with my wife's voting card."
Mr Offord, MP for Hendon, told MPs: "This admission undermines the democratic process and is a criminal offence.
"There's been many accusations that there's been voting irregularities in many seats, including my own, but this is the first time someone has publicly admitted to being complicit in the act of impersonation.
"What action should occur in this situation when wrongdoing has been admitted?"
Speaker John Bercow replied: "The honourable gentleman is alleging that a criminal offence has been committed. That is a matter for the police, not for me."
Ms Jackson said she endorsed Mr Offord's comments but did not have anything further to add.
The Met Police said it was accessing information it had received before deciding whether to hold a an investigation.
Kennedy was unavailable for comment.