Walkie-Talkie skyscraper to have screen put up to stop rays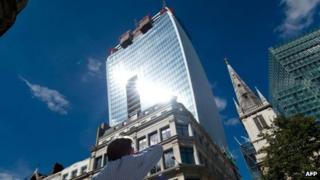 A temporary screen is to be put up outside the "Walkie-Talkie" to try to prevent the sun's rays which reflect from the skyscraper causing damage.
The 37-storey building in the City of London is said to have started fires and caused damage to nearby businesses.
It is said to have not only melted parts of a Jaguar, but also blistered paintwork and caused tiles to fall.
Developers Land Securities and Canary Wharf said the scaffold screen would be erected at street level.
"This solution should minimise the impact on the local area over the next two to three weeks, after which time the phenomenon is expected to have disappeared," they added.
'Walkie Scorchie'
The £200m building on 20 Fenchurch Street, which has been nicknamed the "Walkie-Talkie" because of its shape, is currently under construction.
Experts say they believe the fires start because the reflections of sunlight bounce off the building's curved windows and all converge at one point, concentrating the light.
Ali Akay, of nearby Re Style barber's, said the position of the sun at a certain time of the day caused a searing bolt of sunlight to start a small fire and burn a hole in his company doormat.
"We were working and just saw the smoke coming out of the carpet. We tried to cut the fire down, there were customers in at the time and they were obviously not happy," he said.
"Customers are not going to come in if there is a fire in the front of the door."
Mr Akay, 22, said they had spoken to the managers of 20 Fenchurch Street to find a solution.
"It is getting really serious. This is a health and safety issue. They should have looked into this before they built it," he added.
Colleague Ayca Juma, 29, said: "It's the Walkie Scorchie. That's what caused this."
'Bobbling paint'
Next door at the Viet Cafe, Diana Pham, 25, said they had suffered similar problems.
"Yesterday it was very hot so there was a concentration of light here.
"We thought something was burning in the restaurant but it wasn't. we searched everywhere. Then a customer came in and showed us.
"A tile suddenly broke, the paint has bobbled too."
On Monday, Martin Lindsay who had parked his Jaguar on Eastcheap, told BBC London the reflected rays had melted his car's wing mirror, panels and Jaguar badge.
The developers and Canary Wharf said they had also closed three parking bays in the area which may be affected.
A joint statement added: "We are also continuing to evaluate longer-term solutions to ensure this issue does not recur in future."