Sacked Crossrail electrician Frank Morris reinstated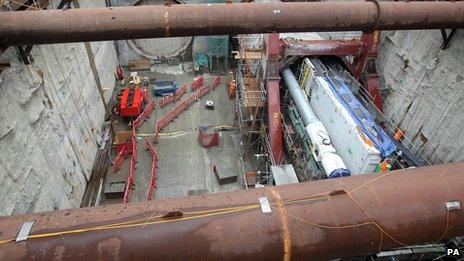 An electrician on London's Crossrail project who claims he was blacklisted for raising health and safety concerns has been reinstated to his job.
Frank Morris was dismissed in September 2012 and he believed the reason was because of trade union activity.
He had stood up for a colleague working on the Olympic site.
The Unite union and the Crossrail consortium Bam Ferrovial Kier (BFK) said in a joint statement that matters had been "successfully concluded".
The statement added: "BFK and Unite have agreed to work together to continue the provision of transparent working practices including safeguarding the right of workers to choose whether or not to join a trade union.
"BFK and Unite agree that there has been no contravention of the blacklisting regulations on the BFK Crossrail projects."
In 2012 Frank Morris was working as an electrician for a subcontractor on the £15bn London Crossrail link, Europe's largest construction project.
Panorama tracked down a man who worked alongside Mr Morris on the site.
'Unacceptable and unlawful'
He was afraid to give an interview for fear of losing work, but said he firmly believed that Mr Morris was singled out because he was on a blacklist.
Andrew Wolstenholme, Crossrail chief executive, said: "Blacklisting is indefensible, unacceptable and unlawful.
"Unite has now issued a joint statement with our western tunnels contractor BFK stating that no blacklisting has taken place."
Dave Smith, secretary of the Blacklist Support Group, said: "We are no longer prepared to sit back when our best activists are victimised and blacklisted.
"The reinstatement of Frank Morris is a kick in the teeth for the blacklisting firms and a turning point in industrial relations in the construction industry.
"This is a historic union victory."
Related Internet Links
The BBC is not responsible for the content of external sites.