Buckingham Palace to host first official football match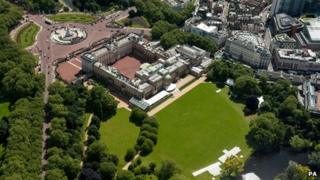 Buckingham Palace is to host its first official football match as part of the Football Association's 150th anniversary celebrations.
The Duke of Cambridge, president of the FA, helped arrange the game between two of England's oldest amateur clubs.
Civil Service FC and Polytechnic FC, both based in Chiswick, west London, will play at the palace on 7 October.
William will host the event and also present medals to 150 volunteers.
The Queen gave her permission for the unique Southern Amateur League fixture.
Wembley groundsman Tony Stones will work with the royal household gardeners to create a pitch in the 40-acre garden.
William praised the 400,000 volunteers who help run local matches every year.
He said: "In our 150th year, it is hugely important for the FA to honour the efforts of the many thousands of volunteers who week in, week out, help to provide the opportunity for millions more people to enjoy football at grassroots level."
Greg Dyke, chairman of the FA, said he was "delighted" about the "first-ever game of football to be played at Buckingham Palace".