Mitcham wedding reception stopped by warehouse fire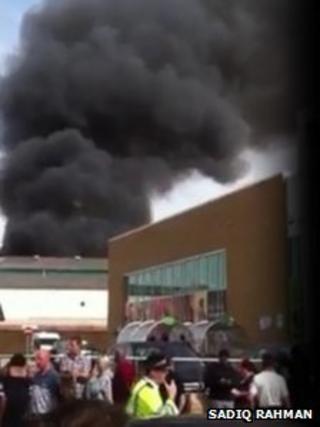 A wedding reception was cancelled and the venue evacuated after a fire broke out at a warehouse next door.
About 70 firefighters tackled the blaze which took hold of the entire building in Mitcham, south-west London.
London Fire Brigade said it was alerted to the fire in Bond Street just after 13:00 and it was under control by 15:30 BST. The cause is not yet known.
Party guest Sadiq Rahman said the fire was at a timber yard and it was "absolutely bellowing".
Pizza order
Mr Rahman said the event had been just about to start with 500 guests when they were asked to leave.
He said: "We're all waiting to go back, in total there are about 500 people outside.
"Some of us ended up ordering pizzas.
"We're going to visit them [bride and groom] later on and hopefully they're not too upset."
Mr Rahman estimated the flames were about 40-50m high.