Covent Garden evacuated after fire breaks out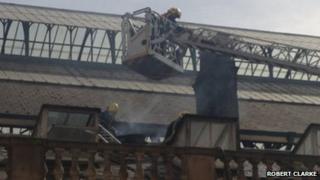 Covent Garden in central London has been evacuated following a fire in the market area.
London Fire Brigade said it had sent about 20 firefighters to the scene although it was too early to tell how severe the blaze was.
Robert Clark, one of those evacuated, said: "It looks like it's a kitchen fire that's gone up into the roof."
He added that about 4,000 people had been asked to leave the market in the central square.