Trafalgar Square Martin Luther King bell ringing event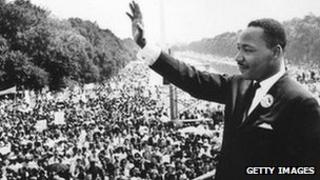 A bell-ringing ceremony has taken place in London's Trafalgar Square to mark 50 years since Martin Luther King delivered his I Have A Dream speech.
The civil rights leader led about 250,000 people to the Lincoln Memorial in Washington DC in 1963 and delivered his famous speech from its steps.
Fifty young people from across the UK rang bells in the central London square at 15:00 BST.
This corresponded to the time King concluded his address.
'Inspire people'
On 28 August 1963, the crowd heard him deliver his famous speech, demanding equal justice for all citizens under the law and predicting a time when freedom and equality for all would become a reality in the United States.
In 1964 Congress passed the Civil Rights Act outlawing all forms of discrimination against racial, ethnic, national and religious minorities, and outlawing discrimination against women.
Natalie Wade, director of Small Green Shoots, a charity involved in the Trafalgar Square event, said: "Fifty years on and it's hard not to be inspired by the Martin Luther King speech and the march on Washington."
London Mayor Boris Johnson said: 'Martin Luther King's speech is recognised as one of the great pieces of oratory.
"It resonates around the world half a century after it was given and continues to inspire people of all ages."