Policeman guilty of assaulting spitting suspect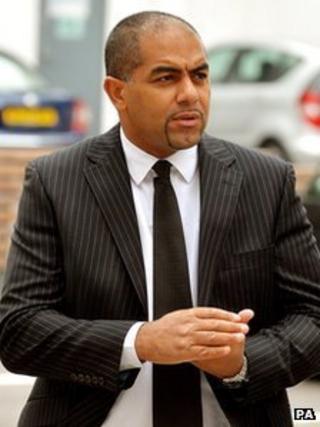 A police officer has been found guilty of punching a suspect in the face after he spat in the officer's mouth.
PC Rohan Scarlett, 47, was accused of assaulting Andrew Uba as he put him in a police van in February.
Metropolitan Police officer Scarlett was transferring Uba from Islington police station to custody in Lewisham, south-east London.
The officer who denied common assault, at Highbury Magistrates Court, is currently suspended from duties.
Scarlett, from Croydon, south London, said he had struggled while transferring Uba to custody.
But as he put Uba inside the van, without warning Uba spat at close distance in his face, Scarlett told the court.
Pool of blood
"A big lump went in my mouth and left eye and spray went over my face and vest.
"Because I hadn't heard him bringing it up I thought he was going to spit at me again so I struck him in the face area."
Scarlett wiped his face of spit, opened the van door and intentionally "launched" himself at Uba, punching him twice, the court was told.
Delivering the guilty verdict, chair of the bench Sue Rose said: "We do not accept that the defendant honestly believed that he needed to use force to defend himself in these circumstances."
The court was shown a photograph from the scene, with a pool of blood on the seat where Uba had been sitting.
Another officer PC David O'Hara was present at the time of the incident.
PC O'Hara claimed he tried to remove Scarlett from the suspect but he was not strong enough.
He said he told the defendant after the punch "we don't do that", to which he said Mr Scarlett replied "yeah we do".
Sentencing was adjourned until 20 September and Scarlett was given continued unconditional bail.
Scarlett's defence barrister, Tom Godfrey, said his client would be appealing against the verdict.