Earls Court demolition inquiry request refused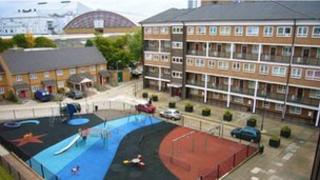 Calls for a public inquiry into plans for a 77-acre redevelopment in Earls Court and West Kensington have been rejected by the government.
The scheme involves demolishing two estates, affecting 760 properties and the Earls Court Exhibition Centre.
Campaigners from Save Earl's Court West Kensington & Gibbs Green estates oppose the plan.
The government said the decision should be "determined at local level".
In a letter to London Assembly Labour Group planning spokeswoman Nicky Gavron, planning minister Nick Boles said while the proposals were "locally controversial, " the application did not warrant the call-in policy where a planning application would be scrutinised at national level.
Mr Boles concluded: "I am therefore satisfied that the application should be determined at local level."
'Economic blow'
Developers Capital & Counties Properties want to create four "villages" and a "high street" and say the plans will create 7,500 homes and thousands of permanent jobs.
But West Kensington & Gibbs Green Community organiser Jonathan Rosenberg argues the loss of Earls Court would damage trade and the centre should be listed.
"If this goes ahead it will be a massive economic blow," he said. "Earls Court generates billions of pounds a year for the UK economy and if it goes there is nothing to replace it."
"There are 2,000 people living in 760 properties who will be affected by these plans and have to move, what they're replacing these homes with are very expensive apartments and housing which does not help our community."
Mr Rosenberg said residents, who opposed demolition of the estates four to one, had been fighting the plans for the last four and half years. They were now seeking legal advice in the hope of halting the development.
Ms Gavron said the controversial redevelopment would see the loss of the iconic Earls Court exhibition space and a well-established local community.
'Job opportunities'
"A project of this scale that impacts on London's economy and mixed communities deserves proper scrutiny, but the government has failed to do so."
Councillor Nicholas Botterill, leader of Hammersmith and Fulham Council said the government's decision not to hold an inquiry was "fantastic news".
"The main beneficiaries will be people living on the estates who will receive new homes, major neighbourhood improvements and the ability to access thousands of new job opportunities," he said.
London mayor Boris Johnson approved outline planning consent in July saying he was aware of residents' concerns but the development would provide a massive boost to the capital.
The development, straddling the boroughs of Kensington and Chelsea and Hammersmith and Fulham, is expected to take 20 years to complete.