Domenico Rancadore: Wanted mafia boss denied bail again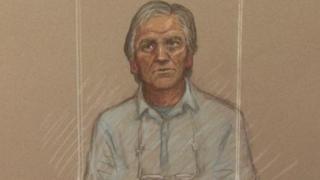 A mafia boss found living in London who is wanted by Italian authorities told police when he was arrested: "I'm not going back, they'll kill me".
Domenico Rancadore, 64, is wanted in Italy to serve a seven-year jail term for his role as "a man of honour" in the Cosa Nostra.
Westminster magistrates denied him bail for a second time as there were no guarantees he would not go on the run.
He was arrested earlier this month at his home in Uxbridge.
The same court was told at a previous hearing that Rancadore was a leader in a murderous gang that "spread terror in Sicily".
Italian police claim he was involved with extortion, racketeering and drug trafficking.
But defence barrister Alun Jones QC questioned that role and said: "Someone in Italy has thought 'we'd better ratchet up the pressure' to give that impression."
Mr Jones said Rancadore's wife's home plus £10,000 would be offered as a surety. He added that his client had medical conditions which meant he would not abscond.
'No grounds'
Prosecutor Aaron Watkins told the court there were "overwhelming grounds" Rancadore would disappear if he was released on bail.
Mr Watkins said it was "telling" that the former teacher, who was living under the assumed name Marc Skinner, had expressed his unwillingness to return to Italy to uniformed police officers.
Acknowledging Rancadore had been living under an assumed name, which he used to get treatment on the NHS, he added: "His case is that he has used the name of Skinner because he has no trust in the Italian legal authorities."
In denying bail, District Judge Quentin Purdy said: "It seems to me clear that if you are released on bail there is a risk you will disappear.
"Your family has every reason to support you in that course of action.
"I can see no grounds to grant you bail and be satisfied that you will return."
Rancadore must appear before the same court via video link on 20 September.
The father-of-two was arrested on 7 August under a European Arrest Warrant.
He was initially acquitted of Mafia-related crimes after a three-year trial in Italy and came to the UK in 1993.
But in 1999 he was convicted in his absence of being part of a criminal organisation and sentenced by the Italian authorities to seven years in jail.