Spitalfields cloth merchant rises from ashes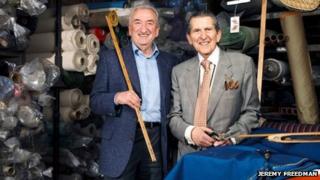 East London's Spitalfields was once dominated by the cloth trade. When Charles Dickens wrote of visiting a silk warehouse in 1851, fabric warehouses had been pervasive there for hundreds of years.
Yet by last year, only one such warehouse remained in the area - Crescent Trading.
Then on the morning of 26 September 2012, the firm - which boasted celebrity clients in Vivienne Westwood and Dame Helen Mirren - was devastated by a large fire.
"It was our life's work up in smoke," says 70-year-old cloth merchant Philip Pittack, who is the third generation in his family to work in the industry.
"I go cold thinking about it. The whole place was virtually gutted - I dropped to my knees crying," says the man who began working in an east London silk warehouse when he was 14 years old.
But he says his 82-year-old partner Martin White coped better than he did. "He jollied me along and said 'come on we'll get back on our feet.'"
Between them, the dashingly-dressed Cockney business partners have more than a century of experience. "It's like we were born into a roll of fabric. It's our way of life," says Mr Pittack.
Following the blaze, which is thought to have been caused by an electrical fault, the men came into work each day cheerfully greeting customers, despite their situation.
"Our resolve was we have to go to work," adds Mr Pittack. "We both love what we do. It was demoralising coming into a burnt warehouse every day, but we had to have a presence here."
Through the bleak winter months, during the periods of heavy rain and snow, they donned Wellington boots and swept the water out. To restore the warehouse as quickly as possible, every single piece of cloth had to be thrown away, the roof needed to be replaced, and the interior recovered and repainted.
"We bought a little container and worked out of that while the warehouse was being rebuilt," says Mr Pittack.
Members of the community came in to offer support, and were particularly helpful with updating the firm's branding and its website.
"It's good to know there are really nice people out there - people who don't kick you when you're down," Mr Pittack says.
They were initially told the repair works would take four weeks but it was more than eight months later - on 1 July - that the fabrics warehouse could finally reopen. The warehouse is once again chockfull with tweeds, wools and silks, but the clothiers have adapted, as they always appear to have done throughout their lives.
"This area has changed beyond all recognition," says Mr Pittack. "Brick Lane has become more like Park Lane - full of restaurants and media types."
"We used to supply big volumes," says Mr Pittack. "But we now supply small designers and students. They're our life blood and the future of fashion. We love meeting people and chatting to customers."
Mr Pittack enthusiastically describes one of their celebrity clients Dame Helen Mirren as "a charming young lady", adding: "She makes her dresses herself.
"She loves sewing and says she uses her grandmother's sewing machine."
The clothier's fabrics are also increasingly appearing on stage and on screen - with Les Miserables, the James Bond and Harry Potter films being among the firm's credits.
The pair certainly like to share a joke with customers. "People have called us the Mike and Bernie Winters of the fabric industry," Mr Pittack says. "Being around young designers keeps us young," he adds.
And often they meet students who go on to become big names in the fashion world. One of those aspiring students was the late designer Alexander McQueen.
"He didn't have £14 to pay for the cloth he bought so we lent it to him," Mr Pittack says. "He did come back and pay a few days later. I like to think we helped him along the way."