Queens Park Rangers consider new Old Oak Common stadium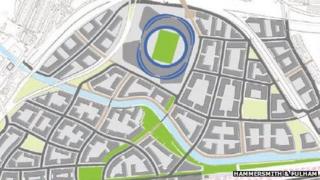 Queens Park Rangers have confirmed they are in talks over building a new 40,000-seat stadium as part of a redevelopment scheme at Old Oak Common.
The area in north-west London is to be the main hub station in the capital for the HS2 high-speed rail project.
A consultation was launched earlier in the summer on proposals which could see 19,000 new homes and 90,000 jobs.
A QPR spokesman said: "We are looking at a number of potential options for a new stadium."
"We believe that Old Oak could provide one possible solution," he added.
'Expansion ambitions'
"We have met representatives of the GLA and the supporting local authorities to discuss whether a football stadium could be incorporated into any plan that comes forward for this site."
Hammersmith and Fulham council leader Nicholas Botterill said: "We've had talks with all three of our football clubs about their expansion ambitions and are aware of QPR's interest in moving to a larger stadium."
Views are being sought on plans for a High Speed 2 and Crossrail station in west London, as part of a scheme it is claimed could create up to 90,000 jobs.
The Greater London Authority is consulting residents on the plan for Old Oak, which it says will improve the local economy and see thousands of homes built.
If plans do go ahead, the area would be redeveloped by 2043, with the station open in 2026.
The public consultation will end on 6 September.