London tuberculosis rates 'worst in western Europe'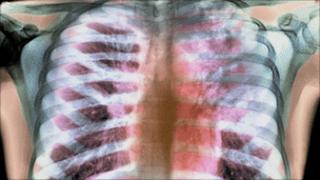 London has the highest rate of tuberculosis of any western European capital, according to figures from Public Health England (PHE).
The capital has a "worrying" rate of 42 per 100,000 people, compared with a national figure of 14 per 100,000.
In total there were 3,426 cases of the lung disease in the city in 2012, making up nearly 40% of the UK total.
The worst affected area was Newham in east London with a rate of 119 cases per 100,000 people.
Other European capitals have much lower rates, such as Paris at 23 and Copenhagen at 17.
Coughs and sneezes
In the UK there has been a small drop in the number of people suffering from the lung disease, with the West Midlands having the second highest rate in the UK.
About 75% of cases were among people born in countries where TB is more common, mostly South Asia (60% of cases) and sub-Saharan Africa (22%).
Among people born in the UK, those from ethnic minorities remain most at risk, as do the elderly and people with a history of homelessness, imprisonment or drug or alcohol abuse.
TB is a bacterial infection which usually affects the lungs. It is passed on through coughs and sneezes among people who have been in close contact for some time.
Dr Yvonne Doyle, regional director for PHE London, said: "Controlling the spread of this infection must remain a public health priority for London where the rates are consistently high.
"This is why PHE is calling for a concerted effort to significantly reduce the level of TB in London in the coming years.
"Screening for latent TB will be key to reducing TB levels in London and there is a need for focused commissioning of services in this area."